HOW TO BANK $150 PER WEEK WITH SURVEYS!
Note: This post contains affiliate links. This means that I may receive a small commission (at no cost to you) if you subscribe or purchase something through the links provided. You will never see me post a link to a product or service that I don't use myself or truly love! (Learn more here)
We are talking surveys today friends.  Specifically, how to earn extra money with surveys.
I know what you're thinking. How can you earn real money with surveys?
Well, I'll SHOW YOU in this article.  To share upfront, you won't be earning enough money to quit your day job but you will be able to have extra money for entertainment, your grocery budget, shopping, to pay your cable bill, and more!
You might enjoy these popular posts:
Here's how it works to earn extra money with surveys:
Sign up with a survey/panel company
Start taking surveys
Redeem your earnings (get your cash paycheck or Paypal deposit, gift cards, gifts, or more)
That's  it!  Easy, right?  Now, each survey company differs a little but I will share my favorites with you, to have you banking $150/week in no time!
MY FAVORITE SURVEY COMPANIES
One of the highest payouts for surveys out there.  Get paid for your opinion.  Join for free and start taking surveys right away.  Up to $75 per survey and up to $150 per study.
Get Paid for Your Opinion
I have been hearing about National Consumer Panel forever!
One of the articles I read a while ago about saving money while scanning groceries.
You are gonna love the easy sign up process and sleek interface of the site and…they have an app!
Sign up is a breeze!  I learned about them through the blog, The Practical Saver, whose author has earned over $80 a week so far.
As soon as you sign up and verify your email address, you will be presented with tons of opportunities to take surveys.  The offers I saw in my dashboard totaled $15-$20. Can you imagine if you had $20 in fresh surveys daily? That's a cool $600/month!
The surveys I have taken with them so far have been very easy to get through and not time consuming at all (keep in mind each survey may differ).  Join Vindale here.
HARRIS POLL ONLINE
One of the oldest, most well respected survey companies.  Navigation-friendly.  A variety of topics surveys available.  JOIN HERE.
Get paid for the things you do online and everything that you complete, you will receive cold hard CASH!! Sign up for FREE!
Cash Crate is one of my favorites!
Get paid for the things you do online and everything that you complete, you will receive cold hard CASH!!
Sign up for FREE!
Get paid for the things you do online and everything that you complete, you will receive cold hard CASH!! Sign up for FREE!'>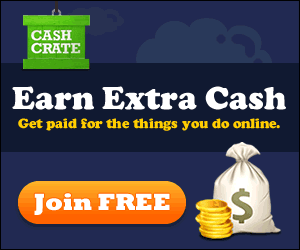 Their site layout is so fun and inviting.  See what I mean here. A great layout which makes you excited to learn about survey opportunities.
My dashboard shows $25 in surveys at the time of this writing.  Great income potential here!
Survey Savvy has been one of my biggest money makers.  I've gotten almost $100 in offers since I signed up 2 weeks ago and not 100 $1 offers either.
I'm talking big money surveys like $30 and $50 a pop!  You will live their survey format and they email you of new opportunities.
You might enjoy: Make an Extra $15,000/year Traveling
As more surveys come to light I will continue to update and add to this list.  Check out the opportunities above if you'd like to boost your income by up to $300-$600 monthly.  Here are some helpful survey tips:
BE ORGANIZED
It will be super helpful to be organized, if you are serious about surveys as a side hustle.  Create a system of checking your survey sites daily or weekly and you can even create a spreadsheet of your earnings, which will act as a great motivator to continue to up your income.
CHECK YOUR EMAIL OFTEN
A lot of the survey sites out there (and on the list above) will email you new offers daily or as they are available.  It will behoove you to keep an eye on your email regularly.  You don't know how many offers I missed out on because I responded to an opportunity too late and it filled up!
I have a few email apps on my cell phone.  That helps me to keep track of incoming survey emails.
REFER, REFER, REFER!
builder
Did you know that you can get bonuses for referring friends and family? This means your survey rate can increase and/or you get a cash bonus every pay period for your referrals.
Make sure to check out the Referrals section (not applicable to all ) of the survey site so you don't miss this opportunity.
Good luck friends!
What are your favorite survey sites?
---
PRODUCTS YOU WILL LIKE
BLOG BUILDER PACKAGE: Get a made-for-you blog handed to you in 30 days with traffic, social media accounts, and more! You get: 10,000 visitors to your new blog in 30 days, 500 Pinterest followers, 100 Facebook followers, 100 Instagram followers, $100 income within 90 days and as a bonus, lifetime access to traffic course, Zero to 10K. Plus, I teach you what I did to hit those targets. All this for just $899.
BLUEHOST: Amazing web hosting starting at as low as $1.95/month!  Streamlined set up and easy integration with WordPress.  Check out The Foolproof Way to Start a Blog.  Bluehost is currently the host used for this blog, Drink Coffee & Prosper.  Highly recommended.
CONVERTKIT: Newsletter services to your subscribers AT ITS FINEST!  I have to admit, I am not a techie, AT ALL! ConvertKit makes it all so easy.  Lots of easy tools, streamlined newsletter creation, affordable packages.  It takes me a few minutes to shoot out a newsletter to the blog's thousands of subscribers.  Easy peasy.  You'll love ConvertKit!
BOARDBOOSTER AND TAILWIND: I've tried these Super Pinning tools separately but I have BOTH! The minute I made that change, my repins increased by 200X, no joke!  I love the features and tools from both.  You'll like the simple, easy navigation of Boardbooster.  Not too complicated at all.  Tailwind has tribes!  Another awesome way to connect and grow your pins exponentially.  They are both very affordable.  A must have and my secret weapon for exploding my blog pageviews!
MAKING SENSE OF AFFILIATE MARKETING COURSE: Join the ranks of Michelle Schroeder and be on your way to earning $50,000/month in affiliate income like she does!  In fact, she had a record SIX FIGURE MONTH in July 2016!  Learn from the very best.  Read my full review of her course on my post, Making Sense of Affiliate Marketing Reviewed.
Save